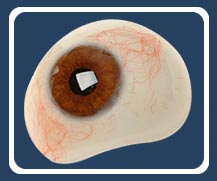 The Artificial Eye Manufacturing & Servicing Prosthetic Eyes
Our Ocular Prosthesis is Made From Plastic Acrylic (Optical Grade).

We found new unique technique, for made custom artificial eyes.By this method we solve any problems about producing of ocular protheses.

We guarantee our products for 5 years, in addition to,this productÕs iris color, resistance against sun light, more than 10 years. Custom - made artificial eye, ready less than 24 hours at first visit.This product supply to the minimum price.

We can supply our products to United states,Canada,Europe and other countries.
We Manufacture All Kinds of Ocular Prothesis, Consist of Ready & Custom-made.